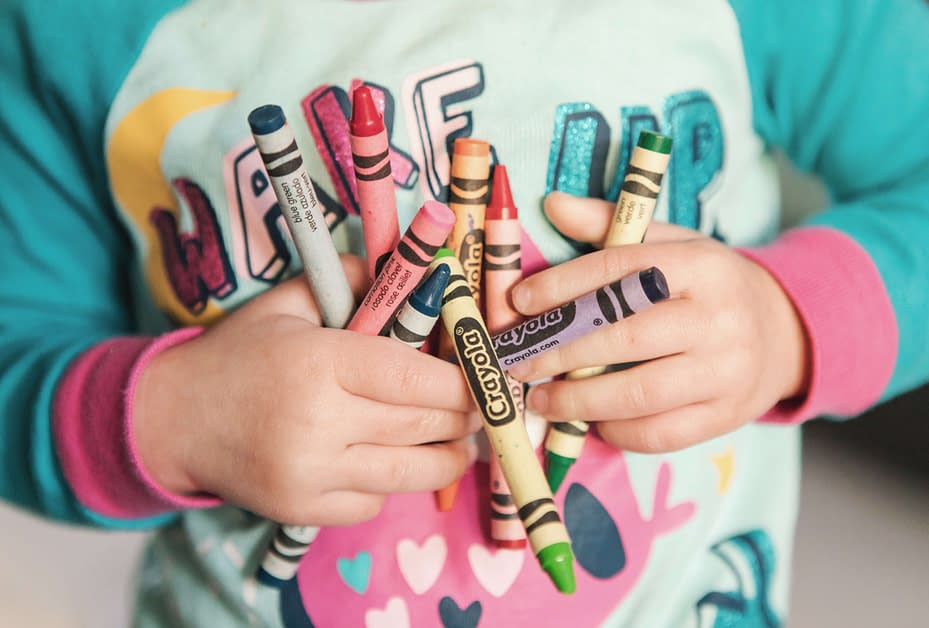 5 Crayon Crafts To Add Color To Your Day
By the time winter begins to wind down our patience, our ideas, and our crafting materials are in short supply. We need to change things up, we need new ideas, and we need color! We have 5 crayon crafts to keep the kiddos entertained and add a little color back to your day until the sun reappears. So grab a cup of coffee, gather the kids and your supplies for some colorful boredom busters!
1. Crayon Etchings
This is a simple crayon craft that involves scribbling colors on cardstock then covering the entire piece with black crayon. Finally, grab a popsicle stick or skewer to etch in the black. The result is a beautiful contrast between the black crayon and rainbow of colors underneath. Get the details at Thrifty Fun.
2. Crayon Transfer T-Shirt
The first time I did this crayon craft was during my time as a preschool teacher. Each child made their own t-shirt for a field trip to the zoo. With a few simple supplies around the house your child can create their own designer t-shirt. You will need:
White Cotton t-shirt
Fine Sandpaper
Crayons
Iron
Cardboard
Paper Towel
Have your child draw an image on a piece of fine sandpaper. Place the piece of cardboard inside the t-shirt. Next, position the sandpaper on top of the shirt. Lay the paper towel over the back of the sandpaper. Using a hot iron (parent step), iron on top of the paper towel for about 30 seconds. Finally, peel the sandpaper back to reveal your image. Here is a quick tutorial from T-shirt.ca.
Here is a crayon craft to recycle those small broken crayons from the bottom of the box. Have your kids peel off any remaining paper. Place small random pieces in a lined muffin tin. Bake at 250 for 10-20 minutes. Take out of the oven and cool overnight. Pop out of the tin and color away!
4. Melted Crayon Suncatchers
As the sun starts to peek back out what better way to brighten your home then colorful suncatchers. This crayon craft needs a little more hands on from you depending on your child's age. Get a jump start on this crayon craft by shaving or grating a variety of crayons (keep the colors separate). Rip off a large piece of wax paper and place it on some old newspaper. Have your child sprinkle different colored crayons on half the sheet of wax paper. Fold the other half over top of the crayons. Place another piece of newspaper on top. With the iron on a low setting iron on top of the paper until the crayons are melted. Let cool, then trim into desired shapes. Finally, hang in a window and watch the sun shine through!
5. Crayon Playdough
One of our favorite activities is making and playing with playdough. It's a calming activity that encourages creativity and helps develop fine motor skills. We love using scissors to cut playdough or stick straws in it to create our own birthday cakes. Check out The Ot Toolbox for the full recipe.
So next time you're cleaning out the crayon box save those broken bits! Use them to try out one of these 5 crayon crafts and brighten up your day!
If you like this post be sure to subscribe to our blog for more creative craft ideas in Kid Approved and other ways to make the most of your memories in our Family Pack.