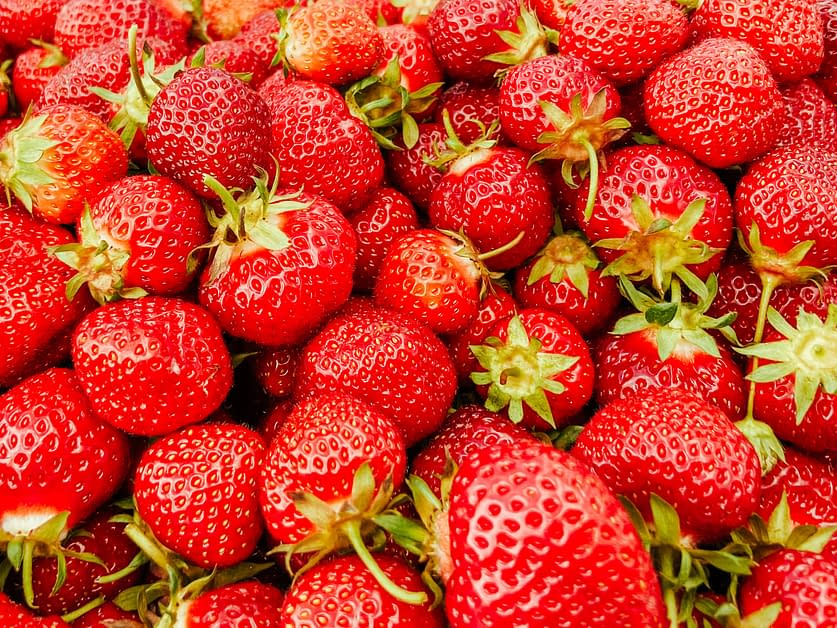 Friday Five – Summer Strawberry Mania
Join us every other Friday when we share 5 of our favorite tips, hacks, ideas, or must-haves! Check out five scrumptious strawberry recipes that will be sure to satisfy that summer craving.
One of our favorite summer traditions in Michigan is heading to one of the local family owned u-pick strawberry farms. Head out first thing in the morning to beat the heat for the best berries (and the best chance not to have at least one child meltdown). If you manage to put more berries in the bucket then in your belly, then we've some great recipes to put those 10 lbs of strawberries to use.
Strawberry Freezer Jam…
Remember Grandma in the kitchen all day long prepping, cooking, and canning? The whole process was a bit intimidating to me, but I found a way to keep the taste of summer going all year round with this simple Strawberry Freezer Jam recipe. No chemistry degree or special equipment required here. So give your kids the potato masher to let out some of that "sibling love" on the berries and not each other!
Strawberry Rhubarb Pie…
This mouthwatering pie is a delightful combination when tart meets sweet…and oh, your taste buds will love it! Don't forget to serve it warm with a scoop of vanilla ice cream on the side…delicious!
Grandma Mary's Strawberry Rhubarb Pie
This pie is delicious combination of tart and sweet. Serve warm with a scoop of vanilla ice cream. Perfection!
Ingredients
2

rolled refrigerated pie crusts

Pillsbury

1 2/3

cup

sugar

1/3

cup

flour

2

cups

cut rhubarb

1/2 inch pieces

2

cups

sliced strawberries

2

Tbsp

butter
Instructions
Unroll 1 pie crust into a 9 inch pie plate.

In a small bowl combine flour and sugar.

In separate bowl combine rhubarb and strawberries

Place half of rhubarb/strawberry mixture in pie plate.

Sprinkle with half sugar mixture.

Repeat rhubarb/strawberry and sugar mixture.

Cover with top crust, cut slits in top crust, seal and flute.

Cover edge with strip of aluminum foil.

Bake 40 – 50 minutes. Remove foil last 15 minutes of baking.
Strawberry Smoothies…
You can only make so many strawberry recipes before they start to get a little too ripe, so throw those washed and hulled berries in the freezer to use another day. We like to add them to our smoothies. Whether it's a quick breakfast or a special treat for the kiddos on a hot summer day, this simple Strawberry Smoothie recipe will do the trick.
Strawberry Spinach Salad…
Here's a quick and easy Strawberry Spinach Salad recipe that can be served as a side or throw some chicken on it for a light dinner.
Strawberry Spinach Salad with Poppy Seed Dressing
This delicious Strawberry Spinach Salad is the perfect summer dish. Great as a light lunch or a side dish for a shower.
Ingredients
Salad
1

bag

baby spinach

1/2

small

red onion

slice thinly

2

cups

strawberries

quartered

1

cup

mandarin oranges

drained

1/2

cup

roasted pecans

chopped

3/4

cup

feta

crumbled
Poppy Seed Dressing
1/4

cup

balsamic vinegar

3

Tbsp

olive oil

extra virgin

1

Tbsp

poppy seeds

2

Tbsp

honey

1/2

tsp

Dijon mustard

1/2

tsp

salt

pepper

to taste
Instructions
Salad
Toss salad ingredients in a large salad bowl.
Poppy Seed Dressing
Whisk all dressing ingredients until combined.

Add to salad until well coated.
Strawberry Sangria…
As picture perfect as we would like these outings to be, sometimes things don't always go as planned. Maybe it was a little too hot out, the kids forgot to step over the rows of plants instead of on them, or you under estimated the number of squats your body can do…this last one is for you, mama! Grab your favorite bottle of sangria, throw in some berries, and enjoy the fruits of your labor. You deserve it!
Be sure to check out more of our absolute favorites on our Friday Five bi-weekly posts.